How often did the Project Managers take Communication Management lightly while managing a project? In the recent PMI's Pulse of the Profession report, it was revealed that the most crucial success factor in project management is effective communication with stakeholders. The research also finds that effective communication leads to more successful projects and hence allowing organizations to become high performers.
The same report revealed that not all projects succeed. On average, two in five projects do not meet the project's original goal or intent and one-half of those unsuccessful projects are related to ineffective communications. One out of five projects is unsuccessful ONLY due to ineffective communications.
Communication is one key element which has to be applied effectively throughout a project's life cycle from the beginning till the end. Then, why are the Project Managers not being able to communicate effectively and how can they improve?
The challenges a Project Manager may face include the following:
Stakeholders scattered geographically
Any project will tend to have a number of people who need to know its progress and about any issues which come up during execution. Modern projects often have an added complication of stakeholders scattered all over the globe. Without a solid communication plan and strategy, it will be impossible to keep everyone up to date and informed. In addition to that, different stakeholders may have different expectations and hence the method of communication may vary from one to another and a standard communication plan may not be effective.
Project Teams
A project team is generally quite a diverse group of people. Project teams are usually brought together to deliver a customized and unique benefit to an organization. On some projects, team members that have never worked together are grouped. The diversity within a project team which can be cultural, geographical, organizational, functional, age-related, level of education and so on is actually the biggest challenge for a project manager.
Constantly Changing Environment
All projects are by nature fluid and ever-changing. Hence a project manager has to consider the changes and challenges all the way until the end of the project and ensure that the team and stakeholders are fully up to date with issues and progress so that there are no surprises for them to discover later on.
To ensure that effective communication is applied throughout the whole project and to overcome the challenges, a Project Manager should incorporate a Communication Mgmt. Plan during the planning stage of the project. While preparing a Communication Mgmt. Plan, a Project Manager will have to keep in mind the following:
What kind of Communication is required? (Management Meetings, Team Meetings, Management Reporting)
Who needs to be communicated with? (Stakeholders)
How frequent is the communication required? (How often)
What needs to be communicated? (Reports, meeting minutes, details or summary)
A form of standardized communication plan could be adopted. However, to be effective and efficient, a communication plan has to be adaptable and suitable for all stakeholders. As described in PMBOK® Guide – Sixth Edition, 'Effective communication means that the information is provided in the right format, at the right time, to the right audience, and with the right impact. Efficient communication means providing only the information that is needed.' Hence, the project manager has to tailor the communication plan accordingly for each project. The plan should be maintained and updated throughout the project life cycle for any changes.
There are numerous tools that a project manager can use to tailor a communication approach in a better way. For example, for stakeholder analysis, a Power/Interest grid could be used where stakeholders are grouped based on their level of authority ('power') and their level of concern ('interest') regarding the project's outcome (see Figure 1). Once the analysis is obtained, a project manager can now assess how key stakeholders are likely to react or respond in various situations, in order to plan how to influence them to enhance their support and mitigate potential negative impacts.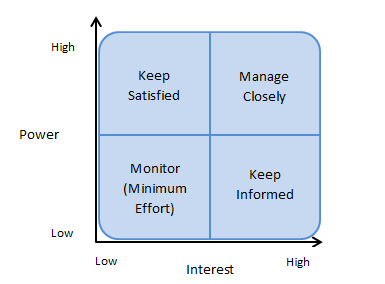 Figure 1.
Power/Interest Grid
Using a RACI chart (Figure 2) can be very helpful in promoting healthy communication within a team. RACI stands for Responsible, Accountable, Consulted and Informed. The chart ensures that at least one person is in charge of each category, as well as helps others to see their role in assisting the responsible person in getting the job done. This also helps in preventing communication that is not needed to take place.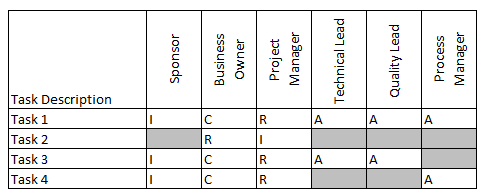 Figure 2.
RACI Chart (R-Responsible, A-Accountable, C-Consulted, I-Informed)
Hence, effective communication is indeed important for a successful project and in order to achieve effective communication on a project, communication planning is highly essential, using tools and putting processes in place, to ensure daily effective communication during the project execution, will overcome the challenges and will contribute to a successful project.